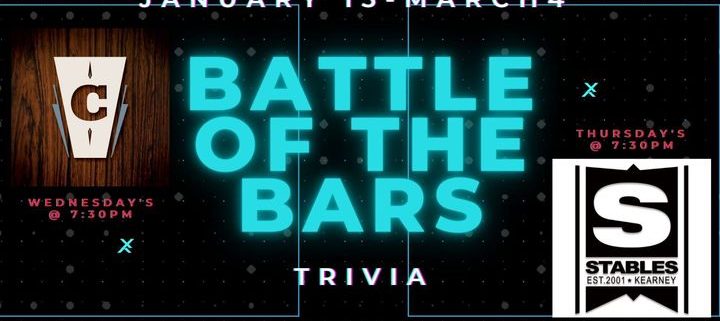 BATTLE OF THE BARS starts TONIGHT!
8-week trivia tournament between CONRAD'S Restaurant & Alehouse and STALBES Grill!
Earn points just for the playing every week on Wednesday's at 7:30pm with Charlie at CONRAD'S or on Thursday's with DJ StowW at STABLES at 7:30pm. Pop culture Trivia for all ages! Free to play!
THE RULES:
• 8 week competition at both locations
• 10pts each week for playing past the 5th round
• 1st, 2nd, and 3rd place each week will get bonus points towards qualifying
• Must use same name each week to earn pts
• 60pts to qualify for the tournament on March 10th
• Tournament will be held March 10 at CONRAD'S
• Winning team gets the CHAMPIONSHIP Belt
• Pop culture Trivia for all ages
PRIZES:
Gift cards for 1st, 2nd, and 3rd
1st – $150
2nd – $100
3rd – $50
4th-6th place will receive swag baskets